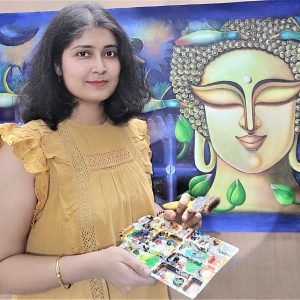 Susmita Mandal
Growing up in a small village of eastern India Susmita developed a keen attachment with natural serenity since her childhood. She carried her childhood creativity and imagination using sand, soil, colors of charcoal, flowers & leaves.
The inner world of dreams and affinity with vibrancy of natural beauty depicts the shape and uses of colors in Susmita's artworks. Though she could not get opportunity to formally complete any art college degree but that hardly comes to her way to follow her dreams and put colors on it.
Working in Acrylic on Canvas, her favorite expression comes in the form of contemporary semi-realistic work covering the Hindu mythological segment and in abstract forms. The deep reach tone of colors gives her all paintings a strong physical presence you can't deny even in the crowd. In her own words, "Through my paintings I try to tell stories and to communicate with the external world, beyond any boundaries of languages, cultures, religions".
Susmita has bagged many appreciations and critics for her form of artworks and successfully creates her own signature style. She has participated in many national and international level workshops and exhibitions and recognized and awarded many a time.
Susmita lives with her husband and two growing children in Ranchi, the capital city of state of Jharkhand, India.
There are no reviews yet. Be the first one to write one.
0 out of 5 stars (based on 0 reviews)