Votings are closed. Thanks for your response.

---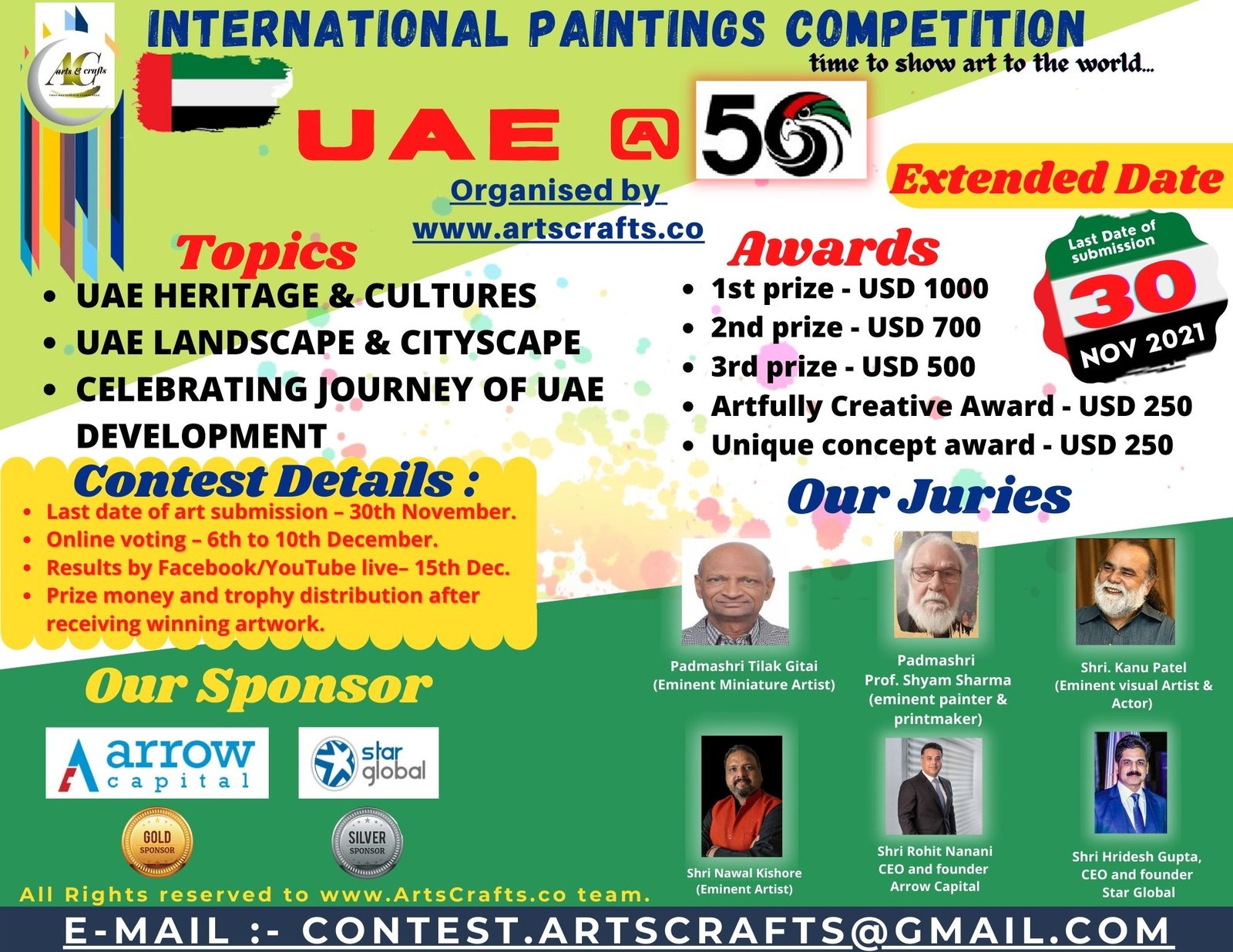 VISIT ON BELOW LINK FOR MORE
CONTEST TERMS AND CONDITIONS
 We at WWW.ARTSCRAFTS.CO invite you all to participate in upcoming ART COMPETITION ON OCCASION OF NATIONAL DAY OF UAE – UAE@50.
All participants are requested to submit their artworks before 30th of November 2021 on any of the following topics: –
UAE HERITAGE & CULTURES
UAE LANDSCAPE & CITYSCAPE
CELEBRATING JOURNEY OF UAE DEVELOPMENT
There will be online voting from 6th December 2021 to 10th December 2021 and the winners will be announced based on combination of online voting and jury's voting on 15th of December 2021.
Please send your entries at CONTEST.ARTSCRAFTS@GMAIL.COM along with following details-
Full name and Age: –
Address: –
Nationality: –
WhatsApp number: –
Passport size color photo
Category of paintings with brief description of Arts.
Rules: –
1.     No entry fees
2.     All artists from any country across the globe can participate
3.     One artist can submit one artwork only on any of themes/topics.
4.     Each Artwork file submitted must be in a jpeg/PDF format.
5.     Art must be own original concept and not a copy of anyone else's
6.     The artworks should be of minimum size 60X90 cm, and it should be on Canvas/Handmade Paper of minimum 300 GSM. Acyclic/oil paints on Canvas and watercolor on Handmade paper.
7.     Original art works remain with the artist, but the sponsor/organizer can use
the digital image for their personal/commercial purpose.
8.     Winners need to submit the original artworks by courier to us and upon receipt of the artworks the winning amounts will be transferred in their bank account and Certificates and Medal/Trophy will be couriered to them.
9.     All participants will be sent contest and voting a link with their artworks so that they can request their family/friends for maximum voting for online voting.
10. If we found that participants used the unfair means for getting votes or misused the technology to increase the votes we will disqulify the contestant.
Awards
Every winner will get Certificate and Trophy / Medal.
1st prize – USD 1000
2nd prize – USD 700
3rd prize – USD 500
Artfully Creative Award – USD 250
Unique concept award – USD 250
Every participant will get the Digital Participation certificates
Judgement
The Decision of ARTSCRAFTS and Jury members will be final and binding to all the participants. No queries will be entrained about the judgement of jury.