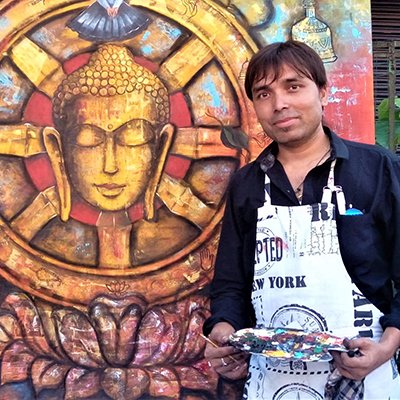 Arjun Das
Arjun is from steel city Jamshedpur under Jharkhand state of India.
Arjun has immersed himself Entirely into Art to Create Magnificent Pieces of Indian Paintings. His Masterworks can be Witnessed in three genres of art namely, Rainy day, figurative and Religious.  The magnificent Creations of This artist include, but are Not Limited to, Abstract, Realistic Painting and Unlimited Contemporary and Spiritual Artworks. Among all, his zeal for Reformulating the world of artistry can be observed through the glorious painting of lord Krishna, lord Buddha, Banaras, and Rainy day.  Arjun loves Experimenting with His art Techniques and uses Different Tools, such as life Rollers and spatula, to Create Unique Effects and Texture on his Art works.
Arjun Participated in many solo and group exhibition at National and International levels and got recognitions and awards.
AWARDS AND HONOURS
Best Artist in Bali chela High School-Tisco (Annual Day 1998)
1999-2003 1st prize in continue Global Culture Competition of Jamshedpur & Kolkata
Participated in 9th National youth festival- 2004, (young Artist Camp in Archery Ground) J.R.D TATA SPORTS COMPLEX, Jamshedpur, Jharkhand. Org by- Indian Government & TATA STEEL
1st prize winner in Painting Competition- 2005 (Holiday package) Subject in painting – Conservation of Water and keeping. Org by: JUSCO & TATA STEEL.
There are no reviews yet. Be the first one to write one.
0 out of 5 stars (based on 0 reviews)