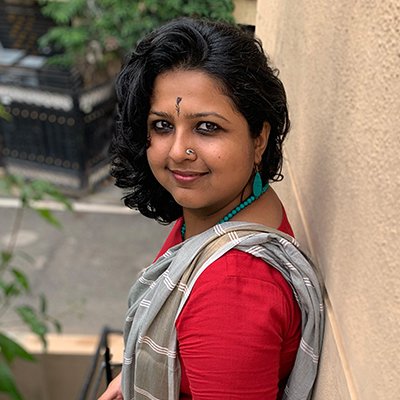 Arpita Gaidhane
Arpita creates paintings with acrylics on canvas. Her art reflects an immediacy that emerges from using her fingers directly on canvas.
Her work is direct and colorful, and engages with the themes of ecology, psychology, gender, mythology, philosophy, politics and spirituality. Arpita's art has been well-received in India and Internationally.
The paintings, primarily abstract, are gleaned from musings. Musings on the everyday going-on of daily life. Musings on the political climate of the world. Musings on power and how it corrupts, how it encourages. Musings on infallible and ever-loving nature. Musings on inevitable emotions and their vivid expressions. Musings on readings from Clarissa Pinkola Estes to Erin Morgenstern, from Ernest Hemingway to Patrick Rothfuss. Musings on diversity and inclusion. Musings on love and acceptance. Musings on what it means to be alive, to be human.
Arpita's work has received international recognition and is displayed at
There are no reviews yet. Be the first one to write one.
0 out of 5 stars (based on 0 reviews)