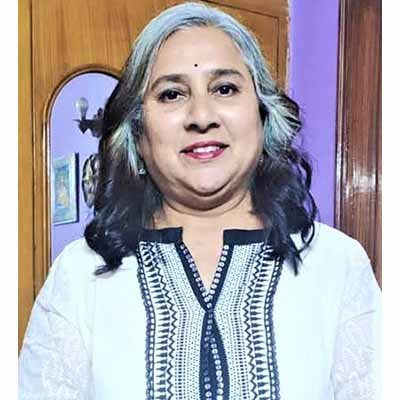 Sudha Raj
Sudha is a quintessential, modern cosmopolitan girl from the capital city of India, New Delhi. Born in Jabalpur, she spent her early childhood in Kathmandu Nepal, and then came to New Delhi, as a beautiful chirpy young 10-year-old.
She did her schooling in a conservative Tamil School, and graduated in Science from the Delhi University
Born into an orthodox South Indian Tamil family, her latent talents in singing, and her extraordinary ability to draw sketches, etc., remained more as her private hobby.
Her artistic talents would have remained hidden, had it not been for a Providential intervention.
She was trying her hands on developing her culinary talents which found a ready stream of admirers. She decided to quit her job as Ex.Assistant to the Chairperson of a reputed Media house to devote more time to this .
The Pandemic put paid to this, and her desire to draw was now unstoppable.
She draws with passion, and experiments with various options; colors, pencil and in sync with today's modern world, has made her foray into the Digital medium as well.
Her work on Fusion has many admirers.  Her other interests would include, Realism, Nature, Flora and Fauna.
She should bring joy to all connoisseurs of Art, as her passion in art will be difficult to miss.
There are no reviews yet. Be the first one to write one.
0 out of 5 stars (based on 0 reviews)