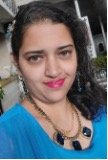 Janhavi Bhide
Aashima a visual artist based in Delhi the capital city of India. Aashima is a Civil servant and was holding a senior position in Ministry of Tourism and now in Ministry of Railways Govt. of India.
Aashima's first solo Exhibition was in Jehangir Art gallery, Mumbai, a dream place for every artist of India to be there and recognized.
Aashima's work has been recognized at national level in India and other International platforms.
As per Aashima, all her works are reflection of her experiences and her personality. Today, Aashima is a visual artist with her own visual language and 'ISM'  although impressionist and post-impressionist styles have greatly influenced her work.
Though Aashima mostly works in Oil, but she is not shy of experimenting with abstract styles and mixed media that encompasses through vivid imagination, originality and contrast, elements of nature and beautiful memories of life.
 Her works oscillates between defined and undefined forms of homogeneous abstractions, while some of her figurative works attempts to induce emotions and dialogue with the viewers. As an artist her vivid imagination, elements of nature and beautiful memories, helped her to create these compositional moments on the canvases and paper with the use of oil paints, water colors and mixed media.
Aashima's paintings reflect philosophy of life, signifying such cosmic play where the actor is lost, what remains is the act or the performance.
There are no reviews yet. Be the first one to write one.
0 out of 5 stars (based on 0 reviews)